DigitalFUTURES Tutorial: Combinatorial Design with Wasp
December 4, 2021 @ 4:00 pm

-

6:00 pm

CET
(Europe/Madrid)
Click here to know the time of the event in your time zone
December 4 @ 03:00 pm - 05:00 pm (Not set)
free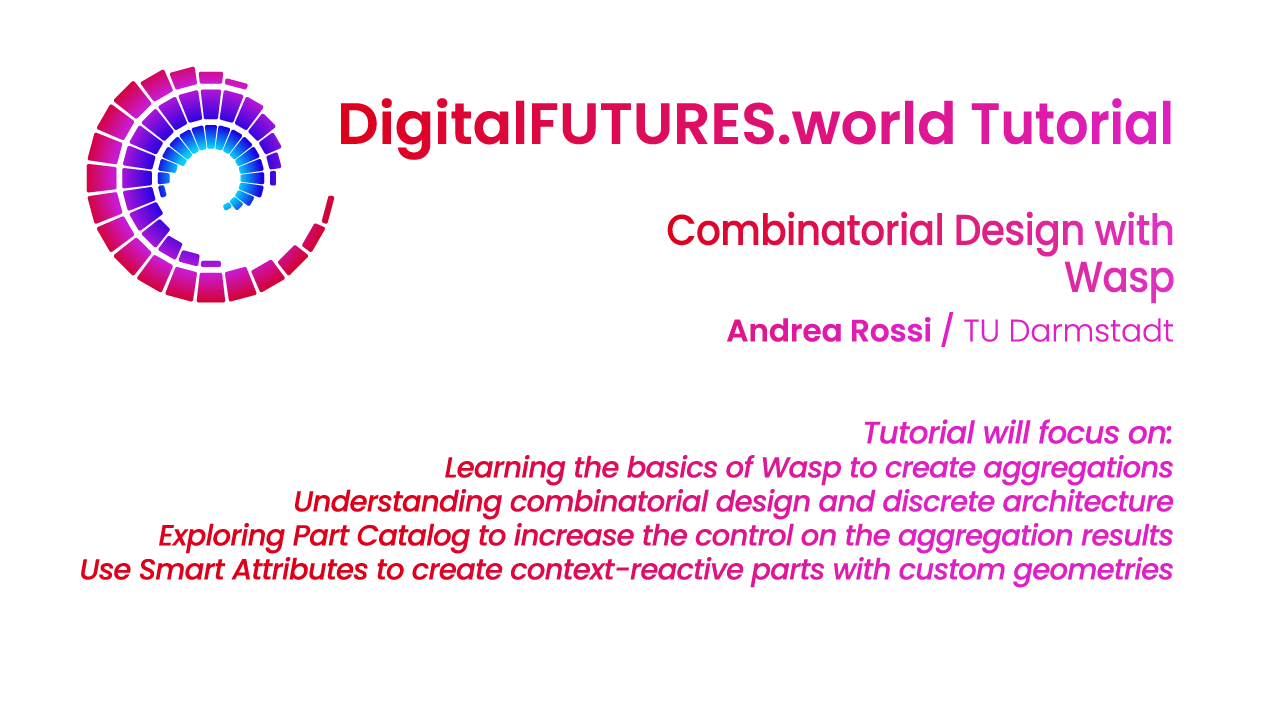 04 December at 9:00am EST / 3:00pm CET / 10:00 pm China
The session will introduce techniques for combinatorial design in Grasshopper using Wasp, an open-source plug-in developed by the tutor. After briefly discussing the theoretical motivation behind combinatorial design, we will look into the basics of Wasp, in order to understand how the main building blocks of the software are created and combined. Afterwards, we will explore some of the newest additions to the Wasp toolkit, such as the Part Catalog, which allows to exactly control the amount of different elements, and the Smart Attributes, which allow parts to react to their surroundings and create different geometries accordingly.
Tutor: Andrea Rossi
Language: English
Level: Intermediate
In this session, participants will
– Learn the basics of Wasp to create aggregations.
– Understand the main ideas behind combinatorial design and discrete architecture.
– Explore the use of the Part Catalog to increase the control on the aggregation results.
– Learn how to use Smart Attributes to create context-reactive parts with custom geometries.
Registration link: https://zoom.us/meeting/register/tJUrde6tqDoiGNLk09RXPKvm77MECduh-A5H