food4Rhino webinar: Annual Daylight Simulations in the Cloud using Rhino.Inside Revit
May 12 @ 5:30 pm

-

6:30 pm

CEST
(Europe/Madrid)
Click here to know the time of the event in your time zone
May 12 @ 03:30 pm - 04:30 pm (Not set)
Free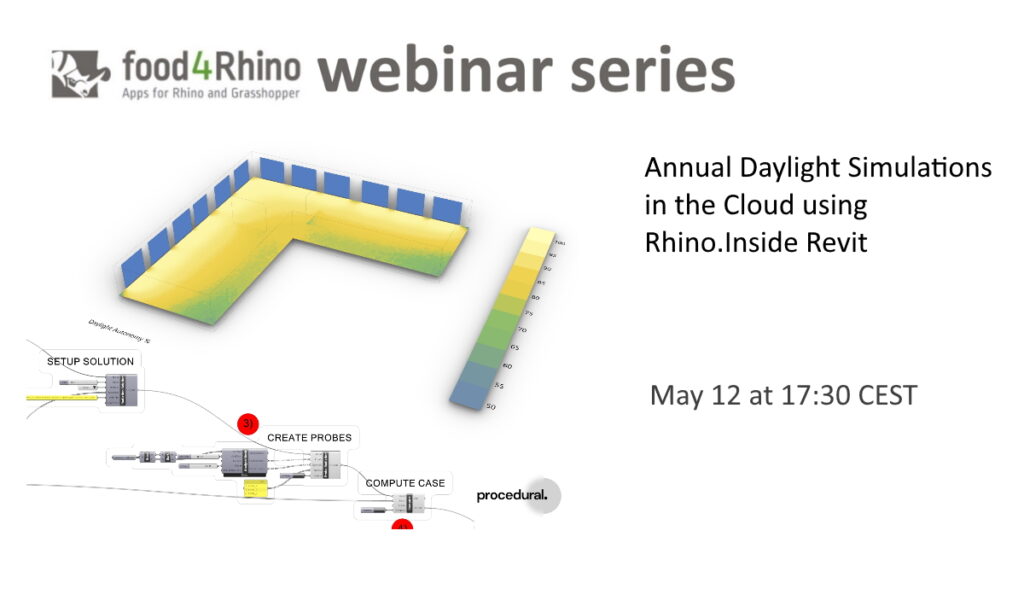 Annual Daylight Simulations in the Cloud using Rhino.Inside Revit
Date: May 12 – 17:30h
Description:
Daylight studies are often used to assess the quality of an indoor space. Even though that daylight studies often are relative computational inexpensive, have modern metrics such as Daylight Autonomy or parametric/generative design increased the demand on computational resources.
Procedural Compute is a cloud platform for utilisation of computational resources. The system is tailored for handling multi-physics simulation jobs used in the AEC industry. Compute is developed to seamlessly integrate with Grasshopper to keep the simulation workflow as efficient as possible.
We will in this webinar show you how to run daylight simulations in the cloud from within Revit. Learn how to scale your simulations beyond your laptop using Rhino.Inside
Speaker: Christian Kongsgaard is an architectural engineer focused on computational environmental design and streamlining building performance simulations. He is the Chief Technology Officer and Co-founder at Procedural.
food4Rhino download: https://www.food4rhino.com/app/proceduralcs
Watch it on youtube live: https://youtu.be/By8c9lVzdtQ