food4Rhino webinar: Land Kit for Landscape
October 18 @ 5:00 pm

-

6:00 pm

CEST
(Europe/Madrid)
Click here to know the time of the event in your time zone
October 18 @ 03:00 pm - 04:00 pm (Not set)
Free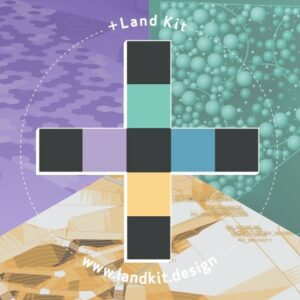 The Land Kit plugin for Grasshopper is a great way for landscape designers, architects, and engineers to take advantage Grasshopper for landscape design workflows. Learn about Topo Kit, our tools for topographic site design that include features like retaining walls, plan areas, and dynamic analysis. Find out how to save lots of time designing custom paving and patterns with Paving Kit. And, finally, learn how you can create ecological and rules-driven design explorations with Plant Kit.
More info on food4Rhino: https://www.food4rhino.com/en/app/land-kit
Speakers:
– Chris Landau is an Adjunct Assistant Professor at Columbia GSAPP, Principal of LANDAU Design+Technology, and author of Land Kit. He is an artist, designer, developer, and educator who utilizes technology to enhance design and visualization processes. His work includes modeling, visualization, animation, interaction design, and fabrication projects in a variety of design, and artistic disciplines.
Chris launched LANDAU in 2018, after leaving the OLIN landscape architecture studio after 11 years as Visualizer and Manager of Design Technology. His projects at OLIN included Apple Park, Google Mountain View, Pier 26 in New York, the PHL Airport Gateway, National Desert Storm War Memorial, 11th St. Bridge Park in Washington, DC, the new Wanda Tower in Chicago, Presidio Gateway Competition in San Francisco, the Met Plaza in New York, Alexandria waterfront in Virginia, Dilworth Plaza and 30th Street Station in Philadelphia. More recently LANDAU projects include videos and design services for the LA River Master Plan, LA Zoo, Sherwood Engineers, Phyto, the City of Medford, MA and the City of Aspen. LANDAU also creates tools for custom projects such as interactive engagement maps, massive art fabrications, and pet prosthetics.
With a BFA in Printmaking from the Cleveland Institute of Art and an MFA in Interdisciplinary Art and Design from the University of Michigan, Chris has taught at Drexel, Moore College of Art, University of Pennsylvania, and Columbia GSAPP.
– Ben Summay is a design technologist with expertise in 3D modeling, rendering, and computational design. Following his graduate education, Ben worked at a landscape design firm for two years where he worked as designer and project manager. During this time he worked on residential and commerical properties while also introducing new 3D modeling and visualization tools to the firm. Upon joining the team at LANDAU Design+Technology, Ben became one of the early users of Land Kit. At LANDAU, Ben has aided in advancing the implementation of computational and visualization tools for projects of varying scale and complexity.
Ben earned a Master of Landscape Architecture from the University of Pennsylvania and a Bachelor of Arts in International Studies from the University of Kentucky. During his time at the University of Pennsylvania he was a teaching assistant for the senior-level digital media courses in the Landscape Architecture department. Prior to and during his undergraduate studies, Ben worked internationally with non-profits in humanitarian aid from Eastern Europe to the Middle East. Immediately following his undergraduate studies he spent six months working with a non-profit startup in greater Detroit to develop community gardens.
Register for free at https://www.linkedin.com/events/6976118912627159040/comments/