food4Rhino webinar: Notilus Nautical Design
May 26 @ 4:00 pm

-

5:00 pm

CEST
(Europe/Madrid)
Click here to know the time of the event in your time zone
May 26 @ 02:00 pm - 03:00 pm (Not set)
Free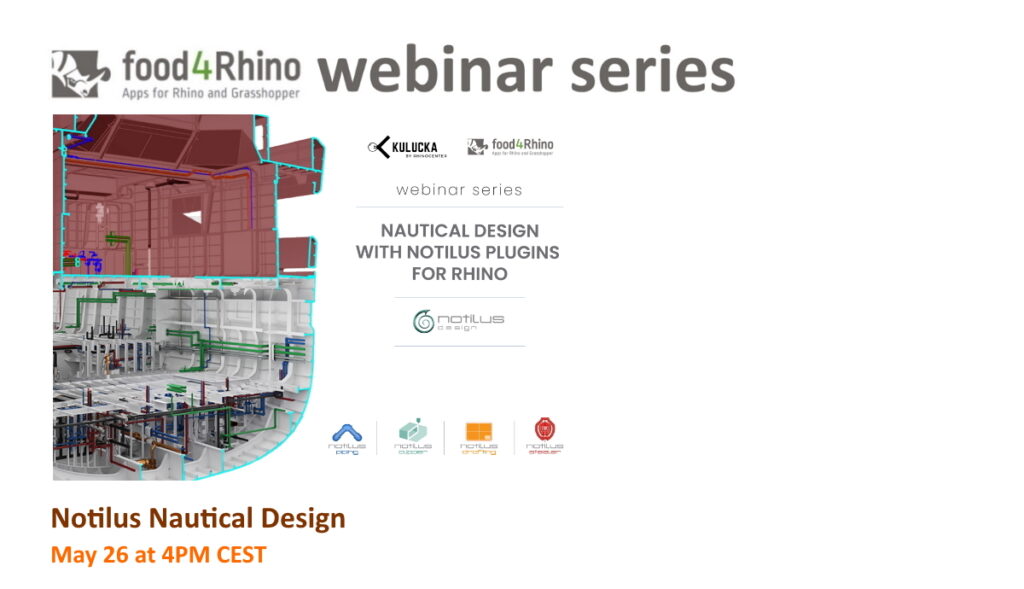 Notilus Nautical Design
Date: May 26 – 16:00h CEST
Description:
Developed mainly for Nautical Industry, Notilus plug-ins are aimed to solve the time consuming process of detailing in Naval Engineering.
Notilus Piping is an intuitive piping design and modeling plug-in with a powerful library.
Notilus Steeler is strong plug-in for steel structure design and documentation.
We will also walk through Notilus Clipper and the 2D documentation tool which is linked with all other tools, Notilus Drafting.
Speakers:
Mustafa DÜLGER, owner of RhinoCenter & Kulucka, is a Naval Architect and Marine Engineer who is mainly working on software distribution of Rhinoceros and some other plug-ins in Turkey. Also, the exclusive distribution partner of Notilus plugins.
Erdem SOMUNCU, owner of Notilus Design Company, is a Naval Architect and Marine Engineer. Notilus is giving naval architecture, engineering and design services for superyachts & megayachts worldwide. Notilus Clipper download: https://www.food4rhino.com/app/notilus-clipper
Notilus Clipper download: https://www.food4rhino.com/app/notilus-clipper
Notilus Piping download: https://www.food4rhino.com/app/notilus-piping
Watch it on youtube live: https://youtu.be/JjoIuMBKB5M