food4Rhino webinar: Omniverse-Collaborative Design and Simulation at Scale
October 11 @ 5:00 pm

-

6:00 pm

CEST
(Europe/Madrid)
Click here to know the time of the event in your time zone
October 11 @ 03:00 pm - 04:00 pm (Not set)
Free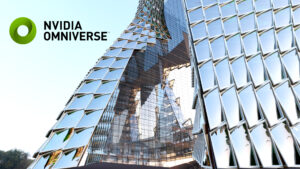 Learn how Nvidia Omniverse can help unlock collaboration and simulation at enterprise scales. Leveraging the full capabilities of GPU computing, we will explore various AEC workflows from conceptual design, CFD, and Energy Simulations using full-scale data and real-time feedback. We will explore multiple design workflows that utilize Rhino and Grasshopper (for design and simulation), and CFD, all linked into a unified environment in real-time. We will explore how multiple users can work together in their preferred tool while maintaining an accurate source of truth model. We will also cover some of the foundations of Omniverse, such as USD, an open-source data storage system, and MDL. This open-source material definition defines not only the visual appearance but its physical properties (structural, dynamics, energy), which is the foundation of Omniverse.
More info on food4Rhino:
https://www.food4rhino.com/en/resource/nvidia-omniverse-connector-rhino-grasshopper
Speakers:
– Jay Axe: Jay is a technical product manager at NVIDIA, focusing on the AEC Vertical for the NVIDIA Omniverse Platform. He found his way to NVIDIA as a freelance CG Lighting/Simulation consultant about 8 years ago. At that time he worked with NVIDIA Mental Ray/Iray to create photorealistic rendering for Endeavor, NVIDIA's new headquarters building in Santa Clara, CA. Day to day at NVIDIA, Jay demonstrates AEC workflows for Real-time Raytracing and Photorealistic Path-Tracing.
– Cobus Bothma: Cobus Bothma works at NVIDIA on the Omniverse Platform, focused on the AECO industries. With a background in Product and Architectural design, he specializes in design computation, simulation, and visualization. Prior to NVIDIA, he was the director of Applied Research at Kohn Pedersen Fox, a global architectural firm. His work included the design of large architectural projects, developing design functions, and progressing technology adoption for advancing the design and construction process.
– Robert Cervellione: Robert Cervellione is an AEC Workflow Specialist at Nvidia working on the Omniverse Platform. He is a registered Architect and specializes in computational design, advanced fabrication, and interoperability workflows within the Architecture, Engineering, Construction, and Operations realm. Working closely with various stakeholders he helps solve complex challenges facing the AECO industry through robust multidisciplinary solutions powered by Nvidia technology. Prior to Nvidia he has worked on significant large scale architecture projects around the globe. His work focuses on the intersection of design and technology, exploring advanced workflows across the AEC space.
– Krista Glanville, R.A.: Krista Glanville is a Design Platform Specialist for Omniverse, focusing on the AECO industry and workflows. She is a licensed architect and and an award-winning product designer. Prior to NVIDIA she specialized in digital fabrication, design and project management during her time with Asymptote Architecture and Henrybuilt. She is an alumna of Rensselaer Polytechnic Institute.
– George Matos: George Matos is senior product manager of architecture, engineering, and construction and AEC industry lead for the Omniverse platform. George helps a variety of customers, vendors, and partners evaluate how technology can help improve their workflows. With over 20 years of experience in AEC and a passion for visualization, George is familiar with the common challenges the industry faces and is always looking for new ways technology can help enhance the industry.
– Sebastian Misiurek: Sebastian Misiurek is a Design Platform Specialist on the Omniverse team at Nvidia. He is a design technologist and educator based in New York, who specializes in sustainable, high-performance, and data-driven design approaches. He has over a decade's worth of experience working on and managing projects across different disciplines and scales, including architecture, interiors, products, furniture, and software. Prior to joining Nvidia, Sebastian worked at Woods Bagot as a global design computation specialist, spearheading advanced visualization, geometry and sustainability analysis initiatives across projects, tools, and workflows. Sebastian has a bachelor's degree in Architecture from Pratt Institute, where he is a Visiting Professor teaching innovative digital tools for architects and designers.
Register for free at https://www.linkedin.com/events/food4rhinowebinar-omniverse-col6975835144364437504