food4Rhino webinar: Point Clouds for Rhino
May 20 @ 4:00 pm

-

5:00 pm

CEST
(Europe/Madrid)
Click here to know the time of the event in your time zone
May 20 @ 02:00 pm - 03:00 pm (Not set)
Free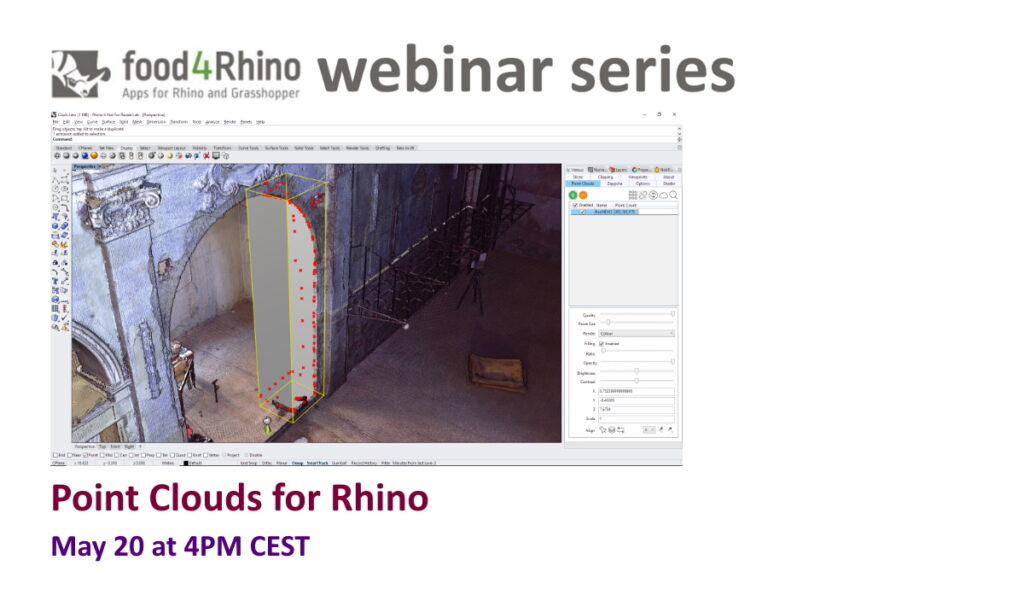 Point Clouds for Rhino
Date: May 20 – 16:00h CEST
Description:
3D scans hold a wealth of data and opportunity for Rhino users – if only they could easily make use of massive point cloud files in their design workflows.
Join us to discover how Veesus is helping Rhino users in a range of industries work effortlessly with point cloud data. We'll discuss some of the common challenges faced by designers when working with 3D scan data – and we'll see a demo of the Veesus Point Clouds for Rhino plug-in, which enables Rhino users to natively edit and manipulate point clouds of any size. Also, a brief look into future technologies that can help with point cloud sharing and collaboration.
Speaker: Mark Estcourt, Veesus MD
Mark Estcourt is the Managing Director of Veesus Ltd, which provides software that help companies
make best use of data captured from LIDAR 3D scanners. Mark has extensive experience in
engineering, business development, and in leading teams and projects.
Much of Mark's career was spent working in the defence industry, with roles ranging from developing
software for fast jet armament systems and mission computers, to deployment of unmanned aerial
vehicles for the UK and US armies, to the refinement of battle operations procedures and engagement
techniques.
It was in the defence industry where Mark was first introduced to the use of LIDAR and laser scanning
15 years ago, where he led a 30-strong team to develop one of the first mobile mapping systems for
the purpose of covert urban data capture. Immediately he noticed that point cloud data was very
difficult to work with – which ultimately led to the creation of Veesus.
At Veesus, Mark has managed the development of software that enables users to view and manipulate
point clouds alongside other GIS data, and Point Clouds for Rhino, which enables users to view and edit
point clouds natively in Rhino. Additionally, in 2021 Mark and Veesus launched Zappcha, a new mobile
point cloud capture app and accompanying cloud storage solution for 3D scan data.
food4Rhino download: https://www.food4rhino.com/app/point-clouds-rhino
Watch it on youtube live: https://youtu.be/K2dGHSkR4y8