FORM FINDING WITH KANGAROO PHYSICS WEBINAR
June 6 @ 6:00 pm

-

June 15 @ 8:00 pm

CEST
(Europe/Madrid)
Click here to know the time of the event in your time zone
June 6 @ 04:00 pm - 06:00 pm (Not set)
€349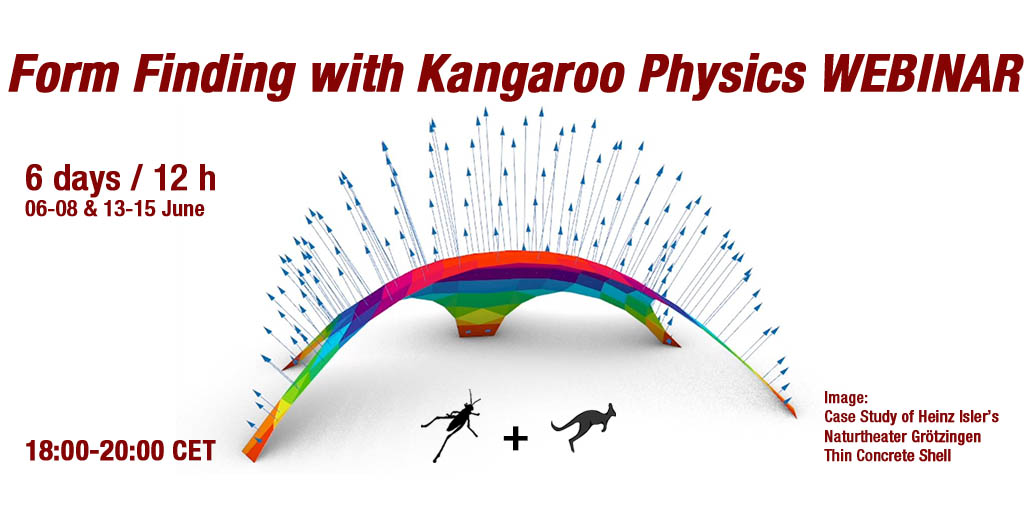 Are you interested in gaining Parametric competency to push your design skills to the next level?
Are you ready to learn a very exciting and powerful tool that will take your ideas and concepts to a whole new realm?
This FORM FINDING WITH KANGAROO PHYSICS WEBINAR will provide you with the necessary knowledge and ability to use Kangaroo Physics, a free powerful plugin in Grasshopper / Rhinoceros.
Webinar prerequisite: Participants are advised to have a basic knowledge in Grasshopper.
Webinar duration: 6 Days / 12 hours in total: Start 06.06.2022
TIME ZONE: CET / BERLIN GERMANY TIME
WEBINAR Language: ENGLISH
CERTIFICATE: Participants will be given a certificate of participation at the end of the WEBINAR
WEBINAR LINK: WEBINAR invitation link will be sent to all participants after registration via private Email
WEBINAR FORMAT: The Webinar's main teaching lessons are recorded, to make sure that all the course sections are covered within the time frame. There will be live Q&A at the end of every session.
In case participants had to miss parts of course for any reason, they can attend them at other agreed times that suit them, in coordination with the Webinar's instructor.