Live Online Intermediate Rhino/KeyShot rendering
September 8 @ 6:45 pm

-

September 29 @ 9:45 pm

CEST
(Europe/Madrid)
Click here to know the time of the event in your time zone
September 8 @ 04:45 pm - 07:45 pm (Not set)
$425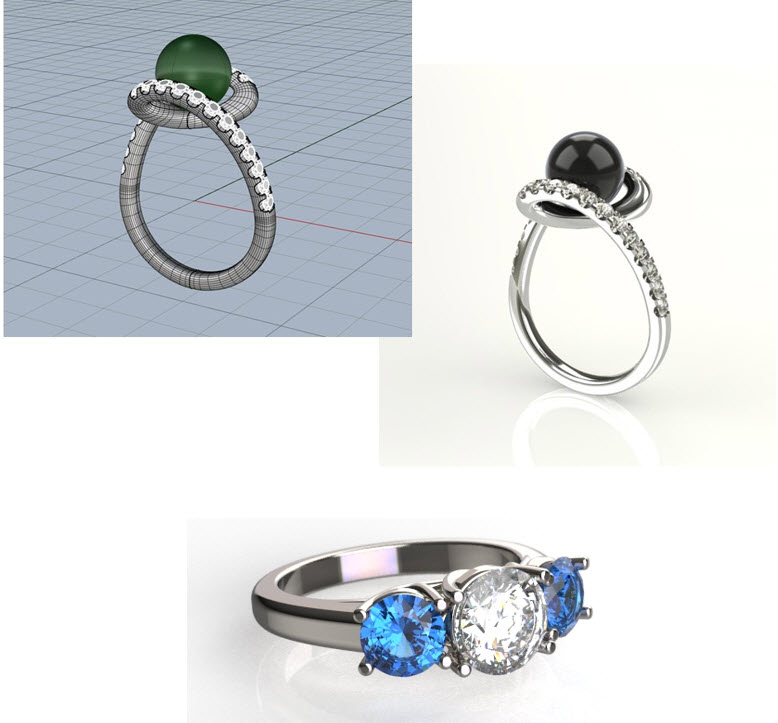 Dates: Sept. 8, 15, 22 & 29 (4 sessions)
Time: 6:45 to 9:45 pm (EST, US)
This online class is "Live"  with open mic, share screen and remote control to get help, just like in classroom sessions. All the questions are answered during the class.
This class is designed for people who are already familiar with basic 3D modeling with Rhino. More advanced modeling projects with useful commands, short cuts and tricks!
Jewelry modeling is used in the class however other industry professionals can be benefit from this class.
We will spend some time learning how to manipulate Gumball as a very powerful editing tool. We can interactively push and pull a surface in the rhino environment while maintaining a work flow.
Also introducing photo realistic rendering with KeyShot.
KeyShot is everything you need to create amazing visuals easy and fast. The real-time 3D rendering workflow displays results instantly and reduces the time it takes to create realistic product shots. From scientifically accurate material and environment presets to advanced material editing and animation, it creates interactive product visuals for your portfolio, sales and marketing tools.
In the class, you will have an access to KeyShot Pro trial version. This exclusive offer let you try most sophisticated special features which are included in KeyShot Pro.
This hands on import-to-finish class will cover
-How to use this amazing photo realistic rendering
program(Material, Environment, Lighting and Camera).
-Texture Mapping of the Material
-Multi Material
-Multi Scene Set
-Still life rendering (with render queue) and animation
-Post processing in Photoshop
Small class for more individual attention. Instructor: Akiyo Matsuoka, Authorized Rhino Trainer, adjunct faculty at Fashion Institute of Technology and Parsons School of Design.