Live Online Grasshopper Level 2 Training Course
November 3 @ 6:00 pm

-

9:00 pm

GMT
(Europe/London)
Click here to know the time of the event in your time zone
November 3 @ 06:00 pm - 09:00 pm (Not set)
£320 – £540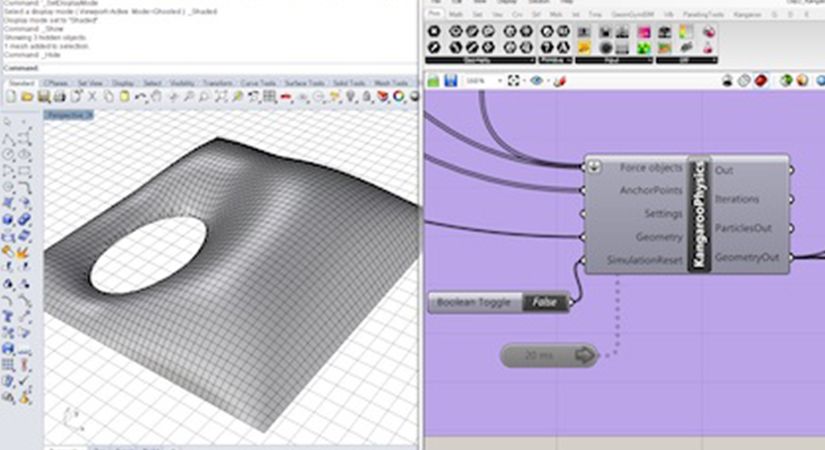 The aim of this course is to provide you with an in-depth understanding of Grasshopper 3D and two of its main plugins, Kangaroo and Weaverbird, giving you a full grasp of parametric modelling, form finding and mesh manipulation.
Throughout the course, we will look at the underlying logic behind Grasshopper, including its complex data tree structure, irregular surface paneling, meshes modelling and genetic algorithm.
Target Audience:
The class is aimed at people who have already undertaken our Grasshopper level 1 Course or use Grasshopper in their work on a daily basis. It is also preferable to have an intermediate level in Rhinoceros.
Although Grasshopper is mostly used for design, the class is about parametric thinking and workflow and therefore is not addressed at a specific profession. Over the past several years of delivering GHL2 we have had architects, engineers, industrial designers, jewellery designers, contractors, project managers and artists attending the class.
Course Outline and Objectives:
Kangaroo
We will also look at physics simulation and optimisation through Kangaroo, including planarization, form-finding and bending forces to reproduce material behaviour within the parametric model and create construction-aware geometry.
Weaverbird
We will look at mesh subdivision with Weaverbird to model tree-like structures. We will also show you how to develop your own set of tools through user objects.
Although the class is based on a pre-defined schedule, each class is always different depending on the audience and requests happening throughout. We will make sure that the class matches your expectations and ambitions with the software.
Most importantly, we want you to leave the class inspired and ready to use and create with the software at all stages of design.
This 7-session evening (UK timing) course starts on Wednesday 3rd November (03/11) and continues on:
10/11, 17/11, 24/11, 01/12, 08/12 & 15/12.
Time – Each session is from 18:00 to 21:00 (UK timing).