Live Online Training Hull Design and Fairing for Professionals
December 1
(Europe/Amsterdam)
Click here to know the time of the event in your time zone
November 30 @ 11:00 pm - 10:59 pm (Not set)
€945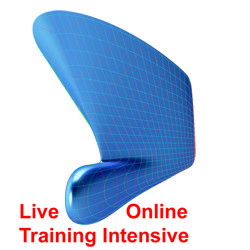 Follow and finish this training now within one month with four live sessions on December 1, 8, 15, 21.
Rapid Hull Modeling for Ships / Yachts / Workboats / Multihulls
Class-A Fairing – Final Design – Fairing for Production – Hull Optimization – Reverse Engineering – Hull from GA/ Lines-Plan – Advanced Analysis – Modeling Strategies – Developable Hulls
Three training modules are covered in four live training sessions of two hours. In between the live sessions you practice the exercises as self-study with the instructional videos and written out exercises.
For trainees around the world, this training with live sessions is offered in two editions:
– December Edition-1 with live sessions on December 1, 8, 15, 21
Central European Time (CET): 09:00 – 11:00 h.
– January Edition-2 with live sessions on January 8, 15, 22, 29
Central European Time (CET): 16:00 – 18:00 h.
Check which edition suits you best depending on your schedule and time zone.
The trainer is naval architect Gerard Petersen, one of the developers of the method and fairing professional.