Rhino/Grasshopper for structural engineering Online workshop
November 13 @ 10:00 am

-

November 15 @ 5:00 pm

CET
(Europe/Madrid)
Click here to know the time of the event in your time zone
November 13 @ 09:00 am - 04:00 pm (Not set)
€395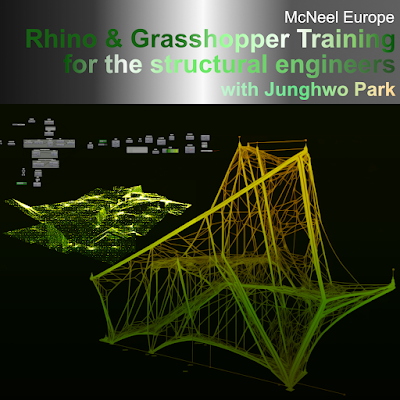 In this 3-day online workshop you will get a basic understanding of how to use Rhino and Grasshopper in structural engineering. You will get to know useful Grasshopper plugins that aid the process during your daily practices. Furthermore, you will learn about seamless data interpolation between Rhino and structural engineering software such as SOFiSTiK, Tekla Structures, and Karamba3D, and lastly, data exchange workflows in BIM using Rhino.Inside.Revit, Speckle, and Autodesk Data Exchange apps.
Day 1
– Why Rhino and Grasshopper?
– Rhino UI
– Rhino project settings
– Graphics settings
– Template
– Engineering modelling tools
– Annotations
– Documentations
– External document management
Day 2
– Grasshopper UI
– Project settings
– Data management
– List management
– Modeling components
– Documentation components
– Plugin management
– Useful plugins for structural engineering and BIM workflows.
Day 3
– Data interpolation using Speckle
– Autodesk data exchange apps
– Rhino.Inside.Revit