Rhino User Webinar: Harnessing the power of generative design to shape better cities
September 6 @ 4:00 pm

-

5:00 pm

CEST
(Europe/Madrid)
Click here to know the time of the event in your time zone
September 6 @ 02:00 pm - 03:00 pm (Not set)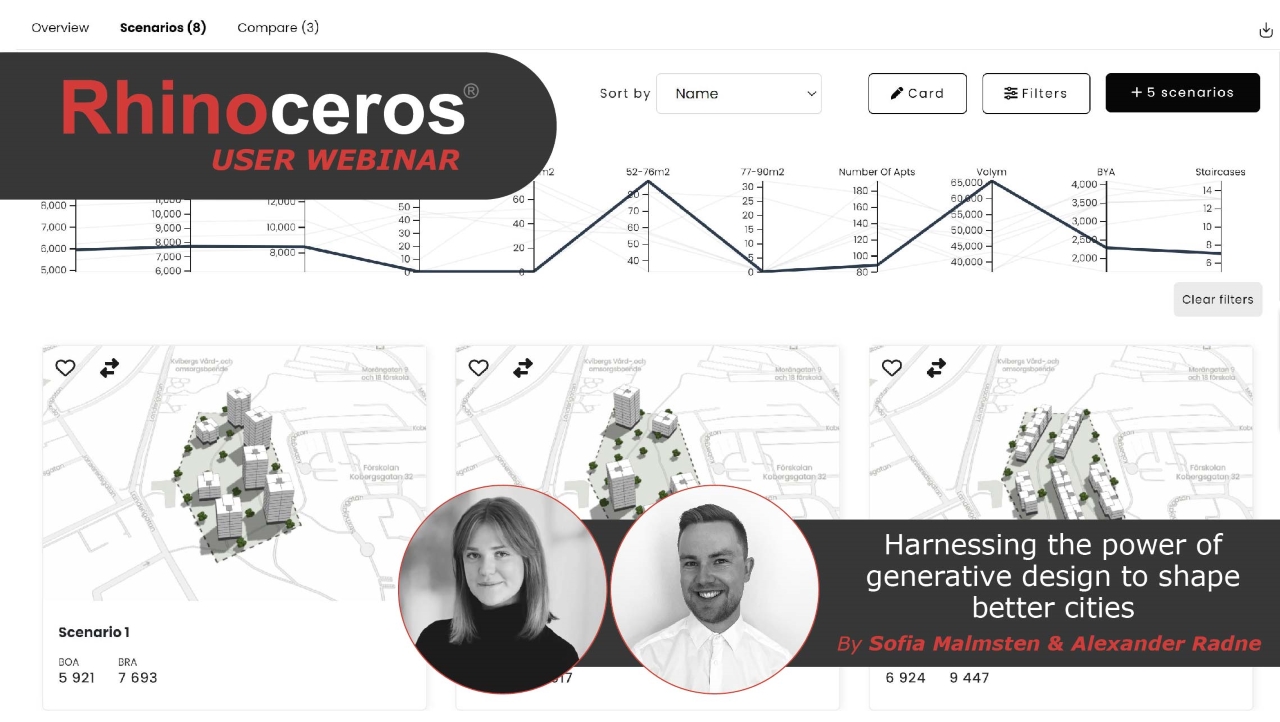 In this webinar we'll meet Parametric Solutions, a Swedish proptech startup working to improve the built environment by utilizing generative design and artificial intelligence. With Rhinos geometry engine and Grasshopper scripting language at its core, they have created a web-based platform that lets architects and property developers create and explore different design possibilities directly in the browser.
The focus of this webinar will be to show and discuss the possibilities of Rhino Compute in the development of cloud-based geometry applications for the AEC industry. Parametric Solutions will share some of their experiences of working with Rhino in the cloud, demonstrate their platform and some of the advantages of working with generative design and AI in early-stage property development. They will also explain their self-developed concept of design objectives – a form of semantic representation of important criteria that can influence design choices.
Sofia Malmsten is CEO and co-founder of Parametic Solutions. With one foot in architecture and the other in programming, she wants to use her skills to create new tools and technology to form better urban environments. This drive led her to found Parametric Solutions with a clear vision helping the AEC industry to raise quality and efficiency with the help of ai and generative design.
Alexander Radne is a computer scientist and software developer with a passion for city planning and the built environment. With a master's degree in theoretical physics and complexity theory he has a strong foundation when it comes to complex problem solving and algorithm development. Alexander has many years of experience working with various AEC related software development projects and is an advanced grasshopper user. Alexander is currently working on improving the generative algorithms in the platform with the use of design objectives.