Webinar: Wind and Other Geometry, by Peter Donders
May 4 @ 4:00 pm

-

5:00 pm

CEST
(Europe/Madrid)
Click here to know the time of the event in your time zone
May 4 @ 02:00 pm - 03:00 pm (Not set)
Free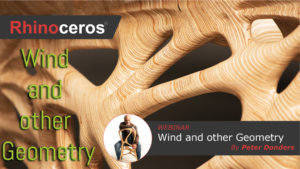 Peter Donders is possibly the best example of how traditional craftsmanship and 3D design work together.
Due to his fascination with the leading Belgian Art Nouveau architect Victor Horta, Donders' creations feature organic lines and serene shapes.
In this webinar Peter will feature designs like the Wind chair (http://museum.peterdonders.com), which from conception to completion in just under 500 hours, is decidedly the most ambitious of his projects.
Speaker: Peter Donders (https://peterdonders.com/) is a Belgian designer mastered in 3D technology and printing.
He worked for fifteen years as a craft-furniture designer and maker before beginning to integrate computer-based tools into his work.
Immediately after his graduation in 1987, he became self-employed as a carpenter and experimented from early on with special shapes and materials.
In 1999 he switched from pure craftsmanship to drawing on the computer in 3D and CAD, which he developed in self-study.
Now he combines his background as a craftsman with his expansive technological knowledge — the computer is now fully part of his production process. For every object Donders makes, he pushes the borders of existing technology and techniques. Besides his work with carbon fiber, he loves to explore the possibilities of 3D printing.
During his career, Peter was invited to several conferences all over the world to speak about his approach on 3D drawing programs. His innovative application of technology has been well received by architects such as Sir Norman Foster and Zaha Hadid and is still revolutionary today.